Seared Aberdeen angus steak with horseradish sauce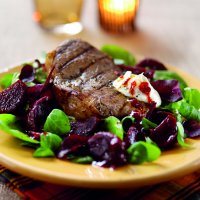 Cook up a tasty treat with a seared Scottish steak, a tangy beetroot salad and a heavenly horseradish sauce
Serves: 4
Preparation time: 5 minutes
Cooking time: 10 minutes approx
What you need:
4 x 175g (6oz) Aberdeen Angus steaks of your choice
1 x 120g bag beetroot salad mix
1 x pouch Baxters Chilli & Lime Marinated Beetroot
2tsp (5ml) horseradish sauce
2tbsp (30ml) crème fraîche
What you do:
Cook the steaks in a griddle or frying pan for 8 - 10 minutes or until cooked to your liking. Meanwhile, divide the washed salad leaves between four plates. Empty the beetroot into a bowl, reserving the juice separately. Arrange the beetroot on top of the leaves. Mix the horseradish and crème fraîche together.
When the steak is cooked, place one on top of each pile of leaves, then spoon a little horseradish cream over. Finally spoon over the reserved beetroot juice and serve.
This page can be found at: http://secretsauce.co.uk/meat-poultry/steak-recipes/seared-aberdeen-angus-steak-with-horseradish-sauce/
A short link can also be used: http://bit.ly/fTK4A8
Baxters

The Baxters family, which is now in its fourth generation, has been producing some of Britain's finest soups, preserves, condiments, beetroot and a wide range of other fine quality food products since 1868.
More from Baxters

If this jam roly-poly pudding doesn't take you back to your childhood, then no pudding will!

This wonderfully rustic rosti topped bake makes a simple, mouth-watering main meal

If you're looking for a meal that's healthy, easy, cheap and quick, then this ticks all the boxes
Popular in steak recipes

A juicy, tender steak with a traditional peppercorn sauce and an added chilli kick, ready in just 10 minutes

To celebrate its 35th birthday this year, Beefeater has released four exclusive and, until now, secret recipes using four of their most popular sauces so you can recreate the ultimate steak eating experience at home

To celebrate its 35th birthday, Beefeater has released four exclusive and, until now, secret recipes using four of their most popular sauces so you can recreate the ultimate steak eating experience at home