Toby's tips on perfecting your Yorkshire pud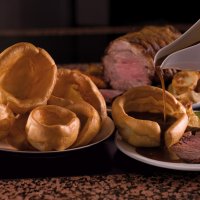 Calling all Yorkshire pud fans: the 1st February marks National Yorkshire Pudding Day, giving you the perfect excuse to indulge in one of the UK's most famous and popular dishes. But just how many of us know the secret to creating the perfect pud? We asked the experts at Toby Carvery - famed for its mouthwatering Sunday roasts and giant fluffy Yorkshires - to reveal a few tricks of the trade.

Dean Roche, food development chef for Toby Carvery, explains: "Everyone loves a good Yorkshire but preferences can vary wildly - some people like their puds to have a crisp, light and fluffy texture while others prefer a slightly stodgier mix. At Toby we go for the classic round pudding, crispy on the outside and fluffy on the inside. Here are my top tips for the perfect pud:
Don't fall flat on the plate: Yorkshire puddings will fall flat if they are removed from the oven too soon. If they don't slightly crispen on the outside the structure of the egg and flour mixture doesn't fully 'dextrinise', meaning its structure will not hold its own weight. In other words, you'll have a bit of a flop on your hands!
Timing is crucial: Cooking times will always vary, as everyone's oven is slightly different and because we tend to open and close the door to remove the meat, the potatoes, and so on. So the 12 minutes I have given here is approximate only - it's really a case of trial and error and always keeping an eye on what's happening in your oven.
Oil is the answer: Put in a good measure of hot oil into each mould. If the oil is really hot, until it just starts to give of a slight haze but not quite smoking (approximately 180°C) the moment the batter is poured in, it will sizzle, begin to cook and rise at the sides immediately. This gives that 'hollowed' centre look that can be filled and will hold the gravy.
Dare to be different: People's perspective of the versatility of the pudding limits it to roast dinners only. A masala pud with Indian spices and sauce as well as a sweetened pud can be delicious alternatives.
Try out Dean's Yorkshire pudding recipe.

This page can be found at: http://secretsauce.co.uk/food-features/quick-cooking-tips/tobys-tips-on-perfecting-your-pud/
A short link can also be used: http://bit.ly/dS0bj8
Toby Carvery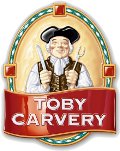 Toby Carvery
restaurants go out of their way to make sure every day feels like the best ever Sunday - so you and your family enjoy great carvery and pub food, have a drink and relish some relaxed, quality time.
More from Toby Carvery

Who better to devise the ultimate Yorkshire pudding recipe than Dean Roche, food development chef for Toby Carvery?