Great British celebration cake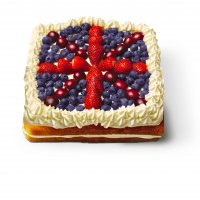 A great British-themed recipe perfect for the Jubilee
Preparation: 30 mins
Cooking: 30 mins
Serves: 12
What you need:
175g (6 oz) self raising flour
1 level teaspoon baking powder
175ml (6 fl oz) Stork Baking Liquid

175g (6 oz) caster sugar
3 medium eggs
2 tablespoons milk
Finely grated rind of 2 citrus fruits e.g. lemon, orange or lime
Citrus syrup:
Juice of 2 fruits, strained
115g (4 oz) caster sugar
Topping:
284ml Elmlea Whipping (or cream), Whipped
250g fresh berries e.g. strawberries, raspberries, blueberries, cherries and black grapes
What you do:
Sift the flour and baking powder into a large mixing bowl, add the remaining cake ingredients and beat with a wooden spoon until smooth.
Spoon the mixture into greased and base lined 2 x 20cm sandwich tins or one rectangular tin 22 x 12cm.
Bake in a preheated oven at 180°C, 160°C fan, Gas 4 for 30 mins in the sandwich tins or 45-50 mins in the rectangular tin or until cooked.
Turn out on to a wire tray.
Put the fruit juice and sugar in a saucepan and heat gently until the sugar has dissolved.
Whilst cake is warm, drizzle the syrup over so that it soaks into the cake.
When cold, split the rectangle cake in half and sandwich together with half the Elmlea. Reserve some Elmlea for decoration and spread remainder over the top of the cake. Decorate with fresh berries in the shape of a Union Jack and pipe with remaining Elmlea to decorate.
This page can be found at: http://secretsauce.co.uk/cakes-desserts/jubilee-recipes/great-british-celebration-cake/
A short link can also be used: http://bit.ly/Jhqcuz
Stork

As the nation gears up for a celebratory 2012, Stork, the iconic British Baking brand, brings you over 90 years of baking expertise in an easy-to-pour bottle. Whether you're creating cupcakes for tea with the girls, a light and fluffy Victoria Sponge for a picnic in the park or a perfectly moist batch of muffins for a yummy mummy morning, culinary queens can use Stork baking Liquid to achieve tried, tested and delicious results in the kitchen. Stork Baking Liquid is in store now and can be picked up for just £1.59 per bottle. Find more recipes and baking inspiration at www.bakewithstork.co.uk.

More from Stork

Here's a lovely Jubilee-themed recipe for a delicious classic - mini golden Victoria sponges
Popular in jubilee recipes

Here's a lovely Jubilee-themed recipe for a delicious classic - mini golden Victoria sponges