Thai red curry with duck & pineapple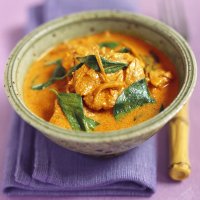 Duck is great in curry dishes and this recipes is really easy to make - it's on the table in 20 minutes and is only 112 calories per portion!
Serves: 2
Preparation time: 5 minutes
Cooking time: 10-15 minutes / hob
112 calories / 7.2g fat per serving
What you need:
2 Duck breasts with skin on
1 jar Loyd Grossman Thai Red Curry Sauce
¼ fresh pineapple, skinned and sliced
Salt and freshly ground black pepper
Chopped fresh basil for garnish
What you do:
Pierce the duck skin evenly with a fork and rub the salt in to the skin.
Season the meat side with salt and freshly ground black pepper.
Place the duck breasts skin side down on a hot dry frying pan and gently fry for 3 minutes. Turn the duck breasts over and fry for further 3 minutes.
Remove the duck breasts from the pan and set aside, slice the duck into thin slices when cool enough to handle.
Add the Thai Red Curry Sauce into a clean pan, stir in the sliced pineapple and bring it to the boil and simmer for 2 minutes.
Add the sliced duck and simmer for further 4 minutes.
Sprinkle with fresh basil leaves and serve.
This page can be found at: http://secretsauce.co.uk/meat-poultry/duck-recipes/thai-red-duck-curry/
A short link can also be used: http://bit.ly/eN8nPj
Loyd Grossman

Try Loyd Grossman's deliciously tasty food range, including pour over sauces, soups, pasta and breads, for premium quality and inspired variety.
More from Loyd Grossman

With hardly any preparation required, this pasta dish delivers exactly what it says it will, it's quick and delicious!

This fresh seafood and spicy chorizo paella cooked with a rich tomato and basil sauce makes a perfect one-pot dinner to share alfresco.

A fusion of juicy tomatoes, fresh cream, natural yoghurt with aromatic spices and a hint of honey served with king prawns
Popular in duck recipes

Sophie says: 'Duck pairs very well with fruity sauces and the strawberries paired with red wine really makes for a comforting combination.'

Lesley says: 'Tenderstem® Broccoli is perfect for stir-frying, it's rich in iron, vitamin C and folic acid. Roasting the duck on a rack with salt will ensure the skin goes really crispy.'

Impress your friends with this simple, but mouth-wateringly delicious dinner party dish