Apple & blackberry square tart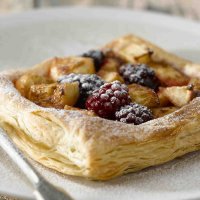 A delicious, fruity dessert - the best in comfort food and just mouth-watering served with a big dollop of creamy custard
What you need:
1 x 500g Jus-RolTM All Butter Puff Pastry - thawed
350g English Cooking apples - peeled, cores and roughly chopped
150g blackberries
50g caster sugar
1⁄2 tsp ground cinnamon
Beaten egg white to glaze
Icing sugar for dredging if desired
What you do:
Preheat oven to 220oC (200o for fan assisted ovens)/425oF/ Gas M7
Divide the pastry into 6 equal pieces and roll out each just large enough to cut out a 12.5cm square.
Place on a lined baking tin.
Combine the prepared apples with the blackberries, sugar and cinnamon.
Divide the fruit mixture between the pastry pieces, being sure to leave a border all round of approx.
1.25cm. Brush borders with beaten egg white and bake for 12 - 14 minutes until pastry is risen
and golden.
Serve warm, dredged with icing sugar if desired.
This page can be found at: http://secretsauce.co.uk/cakes-desserts/pastry-recipes/apple-and-blackberry-square-tart/
A short link can also be used: http://bit.ly/f02ybS
Jus-Rol

Jus-Rol is the UK's pioneering pastry company, committed to providing the highest quality chilled and frozen pastry products. The product range includes ready rolled pastry sheets in both puff and shortcrust pastry, pastry blocks, as well as individual puff pastry rounds, large shortcrust pastry cases and handy pie lids.
More from Jus-Rol

This chicken, pesto and spinach tart looks so delicious it seems a shame to cut into it! But once you do, don't expect it to be there for long!

A delicious quick and easy open tart, perfect for a summer lunch or picnic

You need just three main ingredients for this easy family dish - salmon, pastry and onions
Popular in pastry recipes

These simple to make Danish pastries have interchangeable fillings so swap between shapes, or make them all!